Precision CNC Machining Services

Precision CNC Machining Services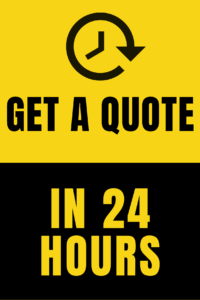 Tube Form Solutions has over 30 years of experience in making high-quality tooling for our tube forming and end forming equipment, giving us the expertise needed to manufacture precision parts ranging from prototypes to high volume production.
We are able to move rapidly to produce small volume runs with very tight tolerances as well as providing cost-efficient production quantities with our advanced automation and lean production processes.
Our engineers and machinists customize part designs to optimize machining time, maximize surface finish, and hold tight final tolerances to meet your specifications.
Our parts are 100% American manufactured.
Guarantee The Success Of Your Precision CNC Machining Project
Tube Form Solutions brings quality and performance together in every project, ensuring success from our customer's perspective every time. Our customers' ideas and project goals are joined with our expertise to deliver the precision machined components they demand. We will reduce the risk of your project and ensure that you get the machined components you need when you need them.
Our experienced dedicated staff, state-of-the-art 5-axis machining equipment, and state-of-art facilities combined with our tested and proven processes deliver the results customers need.
Our Indiana facility runs our 5-axis vertical machining centers and performs high-precision machining and milling of the most challenging and complex parts. Our 5-axis machining services allow our customers to take their manufacturing processes to the next level and most importantly deliver for your customers and exceed their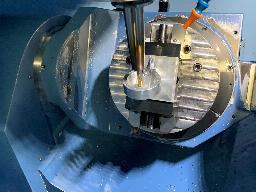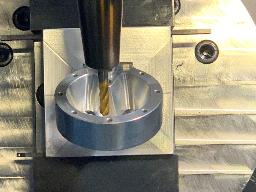 Precision CNC Component Production Services From Prototype To Production
Engineering/Design for manufacturability
Lead time
Inventory Management
Custom CNC Machining Process & Capabilities
Turning
High-Speed Milling (Contour, Form, Taper, Straight)
Drilling
Boring
Slotting
Reaming
Threading
Counterboring
Countersinking
Pocketing
Profiling
Reaming
Tapping
Thread Milling
Knurling
Surface Grinding
Polishing
Sawing – Vertical and Horizontal
Tube Form Solutions Precision CNC Machining Advantages
Consistent processing quality whether one part or thousands
High precision
Custom finishes
Repeatable results consistently
Rapid time to production
Ability to handle various materials
Reduced prototype costs
Lower tooling costs
Expand the range of products you can offer
Our 5-axis CNC machines work with a variety of materials from basic aluminum and plastics to more exotic materials like titanium — making the Tube Form Solutions precision machining system the ideal solution almost any job.
CAD / CAM:
Solidworks 2020
Solidwork 5-Axis 2020
MaterCam 5-Axis 2020
Tube Form Solutions Precision CNC Process
Design review
CAD file development
Design optimization
First run prototype
Inspection and validation reports
ISO certified
Equipment List:
1 pc Acer AGS-1224 AHD Grinder – 12 x 24"
3 pc Acer Supra-618II – 6 x 18"
1 pc Sodick A325 Wire EDM – 8.6 x 9.8 x 13.7"
4 pc) Acer EVS-3VKH – 10.0 x 50.0"
1 pc) Kearney & Trecker – 15.0 x 68.0"
1 pc) Makino KE55 – 13.78 x 12.60 x 21.65"
1 pc) Makino A66 Horizontal (4-axis) – 25.19 x 27.55 x 31.49"
1 pc) Makino V56 – 17.71 x 21.65 x 35.43"
1 pc) Fadal 4020 – 20.0 x 20.0 x 40.0"
1 pc) Fadal 3016 – 20.0 x 16.0 x 30.0"
3 pc) Brother (4-axis) – 11.8 x 11.8 x 15.74"
2 pc) Haas VF-2 (4-axis) – 20.0 x 16.0 x 30.0"
1 pc) Haas VF-5/50 – 25.0 x 26.0 x 50.0"
1 pc) Matsurra MX-330 PC-10 (5-axis, with pallet changer) – 12.99Ø x 11.81"
1 pc) Okuma LB400EX – 18.90Ø x 18.89"
1 pc) Okuma LNC-8 – 9.84Ø x 15.0"
1 pc) Okuma Genos L400 – 12.2Ø x 20.47"
1 pc) Okuma LB-15 – 9.84Ø x 19.69"
1 pc) Okuma LB-9 – 5.9Ø x 8.66"
1 pc) Haas DS-30 (dual turn) – 18.0Ø x 23.0"
1 pc) Haas SL-20T – 10.0Ø x 20.0"
1 pc) Haas TL-25 (Dual Turn) – 16.0Ø x 34.0"
2 pc) Laser Part Marker
Industries That Use Precision CNC Machined Products
Aerospace and Defense
Automotive
Consumer products
Electronics
Energy
Medical
Industrial
Food processing
Contact Us to learn more about our precision machining and milling parts services.
Contact Us About Our Machining Services