Bending steel brake lines, vapor lines, and fuel lines for automotive and truck applications is one of the more difficult tube bending applications.
OEMs are always trying to make everything lighter, thinner, and with more complexity of design. Bending steel brake lines is an application that challenges all but the best tube bending companies.
Tube Form Solutions offers the SOCO Oil Tube Master tube bending equipment line to handle tough applications like bending steel brake lines. The Oil Tube Master bending machines can handle multiple configurations of tube with lengths up to 6 meters and longer and is very fast, with the capability to bend every 1.5 to 2 seconds.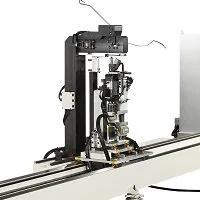 "The key design technology involves the center nesting of the tube. Once the tube is placed in the center clamping mechanism, a head travels and bends one half, completing as many bends as required on that end of the finished tube.
The bending head then works on the other end resulting in a much more repeatable bending process", says Kyle Eagle, Tube Form Solutions Applications Engineer.
Most tube bending machines for steel brake lines bend from one end of the tube with the other end held in place and/or rotated.
In this design, after half of the bends have been formed, the overall length of the part will be moving too much; to reduce process variations, the forming motion has to slow down.
The SOCO Oil Tube Master offered by Tube Form Solutions bends from the end of the tube to the middle, then from the opposite end to the middle. Or bends from the ends to the middle. Therefore the bending head and rotating center nest typically operate at full speed of the tube bending machine.
The SOCO Oil Tube Master has only one bending head that bends the tubes from both sides. This feature of one head results in less maintenance and a simpler machine that is faster with better repeatability.
The tube stacking features for compound bends and tricky radius bends also add to this machine's flexibility.
These tube bending machines are built for automation cells with magazine-fed or robot-fed parts in a dedicated cell or can be hand loaded and unloaded.
Minimum and maximum tube sizes, diameters, and lengths will determine the ideal model for each bending steel brake line application.
Click here to read the SOCO SB-Oil Tube Master brochure. 
When you need tube bending equipment to handle tough applications like bending steel brake lines, vapor lines, and fuel lines, contact the tube bending experts at Tube Form Solutions.