At its most basic, ram tube end forming, or end finishing is done to change a tube's shape. The end forming process can encompass a wide range of options like ram forming, flaring, expanding, reducing, IO sizing, and even beading.
What is Ram Forming?

Ram tube end forming most often requires one end of a tube to be held in place with clamps, while a ram forming tool is used to form the end of the tube. The ram-forming tool compresses the stationary tube down towards the clamp dies to form the end.
Ram forming is used to form both non-symmetrical and symmetrical shapes. When ram forming, the typical tool set includes vice jaws and ram nose. Ram forming also moves the material being formed a greater distance and reduces splitting compared to segment sizing tools.
Need help determining which end-forming tools are right for your application? Tube End Forming Explained is an engineer's guide to end forming tube and tube end forming!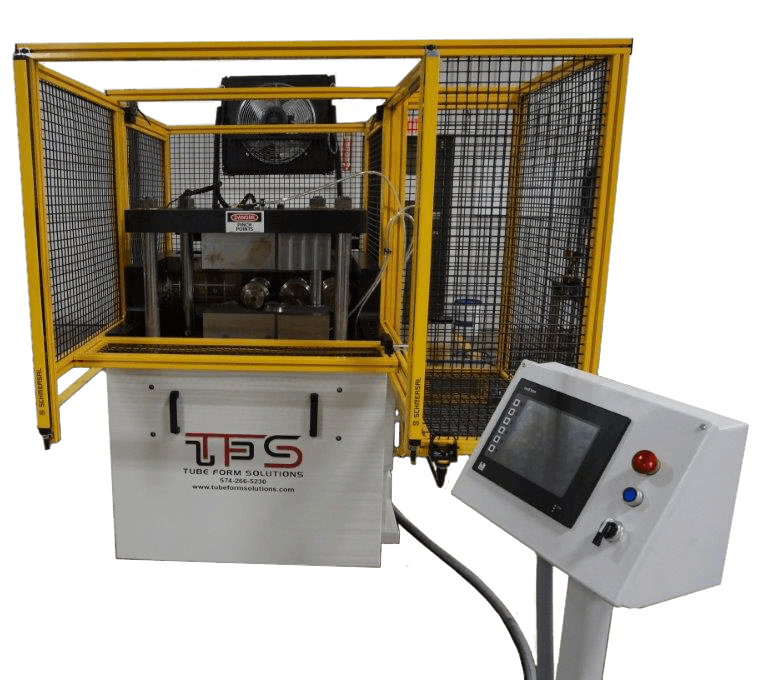 A Complete Ram Forming Solution
The newest addition to our robust line of end forming machines, the 150 MULTI STRIKE Ram Former, is designed to be a complete ram forming solution.
Capable of accommodating a minimum tube size of OD 1" with a maximum of OD 6", the 150 MULTI STRIKE Ram Former is a heavy-duty solution that makes extreme tube end expansions possible.
A four-post design delivers rock-solid clamping, distributing the clamping force more evenly and eliminating part slippage during the forming process.
This machine is ideal for tube flares and large expansion end forming!
Contact us to learn more about our full line of end-forming machinery, or let us help you find the right automated solution for your application!