Purchasing a new tube bender can be a cumbersome process. There are many specifications that you will need before you can purchase your new tube bender, and many more optional specifications you might need as well.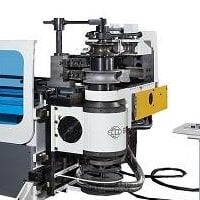 Collecting and managing all of these specifications can get out of hand swiftly without the proper tools to help you organize your efforts. That is why we have created the Tube Bender Buying Checklist.  
Tube Bender Buying Checklist
The Tube Bender Buying Checklist will help you gather all of the information you will need for your new tube bender.
It will walk you through a comprehensive list of new machine RFQ requirements as well as a full featured machine options checklist. With everything from safety options to power requirements, this checklist will help you collect all of the pieces of information you need to ensure that you buy the right tube bender.
Leading Tube Bending and End Forming Company
Our goal at Tube Form Solutions is to empower people who design. Our focus is to help our customers materialize their ideas by providing the tools and information to help them transform their concepts into reality. We are a tube bending company dedicated to providing exceptional innovative products, technical support, and customer service.
We help you get everything you need quickly and accurately for precise bending and end forming so you can continue to lead the tube forming industry. The Tube Bender Buying Checklist is one of the tools we offer to help ensure you have all the information you need to make the best purchasing decision.
Contact us for more information or to request a quote. Click the button below to get your free copy of the Tube Bender Buying Checklist.