Automated tube fabrication manufacturing cells offer manufacturers increased productivity without increasing labor. Automated bending cells also offer unparalleled repeatability, making them an often-ideal solution for large-volume production.
Need a Completely Automated Tube Fabrication Manufacturing Cell?
Tube Form Solutions and manufacturing partner SOCO have the answers for you. With the full line of tube fabrication equipment available to us, we can specify, build, runoff, install and support a fully automated tube fabrication line.
Tube Form Solutions integrated manufacturing cells include programming, wiring, mechanical, and all mechanical connections and communication.
What Does an Integrated Cell Include?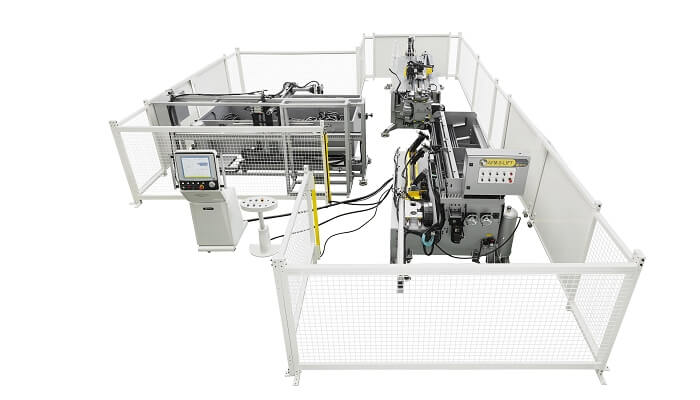 Components of an integrated cell could include:
manual, bundle, or automated loader
walking beam or gravity-fed loaders
racking and staging to feed the robot
tube cutting
tube bender
end formers
tube notching
tube punching
tube sawing
secondary processes including material-handling robots
robotic part removal
racking
outfeed conveyor
Machine Options
We offer a full line of automated bending cell options and machines. You can see some of our machines in action below, including our latest addition an all-electric bender automation cell with robotic loading and unloading.
Learn More
Tube Form Solutions supplies equipment for the entire tube fabrication process. We work with your team during the entire tube fabrication life cycle from design to retrofit and every stage in between.
Tube Form Solutions is committed to providing high-quality products, innovative designs, and responses to customer and market needs. With two primary locations (Elkhart, IN and Vista, CA) fully staffed to design and build products for your applications, TFS also has full-time expert sales and service staff regionally located to best support you in the areas of machine service and training, the design of tooling and machinery, applications, and process.
Click here to meet our team of industry experts who have the experience your need to make your tube fabrication automation project a success. Or Contact us to discuss in detail your specific requirements.