The Fiber Laser Tube Cutting Machine is a comprehensive CNC laser tube cutting machine solution. With many features and capabilities, this tube-cutting laser system allows users much tube-forming flexibility.
Fiber Laser Tube Cutting Flexibility
The Fiber Tube Cutting Laser offers users a high degree of flexibility by combining various laser processes into one machine.
Angle cutting, slotting, marking, notching, and hole marking are all combined in this machine, making it an ideal solution for many applications.
The Fiber Laser Cutting Machine offers users many features that expand its flexibility and capabilities.
Features include:
Capacity up to O.D. 152 mm
Cutting Lengths up to 2000mm or 3000mm (longer lengths by request)
Wall thickness from 0.6 - 6.0mm (Mild Steel)
Automatic Bundle Loading System with Material Alignment
Automatic Unloading System with Conveyor
Equipped with 1.0 kW (Standard) or 2.0 kW (Optional) Laser Resonator
Multi-Axis CNC Controls with Touch Screen Interface
SOCO CAD-CAM system for Tubes and Profiles with built-in Nesting
SOCO i2 (Intelligent interface) 3D operation software
Cutting for round, square, rectangle and various profile shapes
Enclosed Workstation for maximum safety
Automatic Distance Control
Laser Resonator Cooling and Fume extraction systems
Automatic Compensation after measuring of material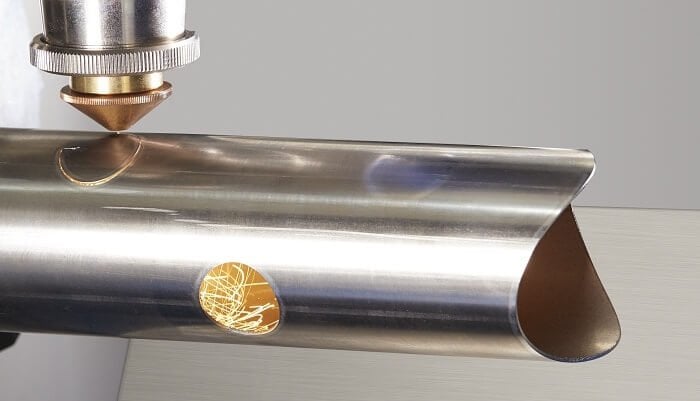 What Optional Features are Available?
The CNC laser tube cutting machine offers users a number of optional features to improve usability and versatility. Some of the most popular features include a seam detection system, mandrel for spatter extraction, feeding and unloading length detection, and automatic laser cutting path planning.
Check Out our Fiber Tube Cutting Laser in Action Below!
Learn More
Contact us to learn more about our full line of tube forming solutions or request more information about the Fiber Laser Tube Cutting Machine, or let us help you find the right automated solution for your application!