The 2B Series Tube Benders prove that a fully automatic tube bending solution can also be cost-effective.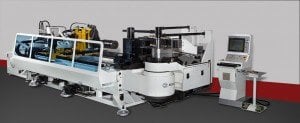 The 2B Series CNC tube benders combine servo-controlled feeding and planning axes to ensure high precision and reliability. The bending arm also features a powerful hydraulic pressure die booster for added versatility.
The help ensure long service life, the 2B Series CNC tube benders feature an electric control system with a fan and an optional auto lube system.
This line also features PDI Zone recapture which allows the carriage to move into the PDI zone for any number of bends.
The software on the 2B Series is designed specifically to facilitate perfect bending with 3D software and a touch screen making this line of CNC tube benders easy to use. The 2B Series has the ability to simultaneously open and utilize 9 different files, set parameters on different materials, and run step-by-step test runs to check for interference. The 2B line also offers an option bending interference and collision simulator to ensure perfect bending.
You can see the 2B Series and software in action below!
Contact us at any time with any questions or comments you may have or to learn more about the 2B Series CNC Tube Benders. 
Click here or follow the link below to download a free introduction to tube bending.