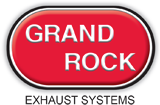 When Brandon Forristal, Project Manager at Grand Rock Exhaust Systems in Painesville, OH, needed to rebuild existing tube bending equipment he turned to the experts at Tube Form Solutions. Grand Rock manufactures exhaust systems for the diesel truck and aftermarket components markets.  Grand Rock typically bends 3" to 6" diameter tubes made of mild cold rolled steel and 304 stainless up to 14 gauge tubes.
Grand Rock had two older systems that needed to be re-built and upgraded. "When we needed to re-build and upgrade our machines the engineers at Tube Form Solutions were our first choice. They clearly have the expertise and understanding of processes to make our much needed updates. We are thrilled with the support we get from Tube Form Solutions as well as with the speed and savings we realized from upgrading our systems. Tube Form Solutions made our shop run more efficiently and helped us make even better exhaust components for our customers" says Mr. Forristal.
The first machine was a Left hand Pines machine that needed upgrade to CNC. the key upgrades were:
Upgrade to CNC with Bend Pro G2 package
Replace Control
Replace Beckhoff components
Replace servo motors and controllers
The second machine we re-built was a #4 Pines bender. The main reason for the upgrade and rebuild of this machine was that the hydraulic system needed to be replaced. The work Tube Form Solutions did on this machine included:
Completely strip down machine, wire brush
Repaint with one coat primer and one coat enamel
Replace chain-driven carriage with new servo-driven carriage assembly
Replace control console with new PC-based control system

includes high-resolution panel display and keyboard

Replace I/O with new Opto 22 I/O components and rewire machine
Hydraulic system upgrades
Replace all lines, hoses, meter units and fittings
Mechanical component replacement and upgrades
Complete machine tests and verification
Rebuilds/Control Upgrades
Tube Form Solutions can extend the life of your current tube bender because we have the expertise to rebuild or upgrade your current machine. Over the last 20 years, Tube Form has serviced many models of Tube Benders (Adaptive Motion; Addison; Addison McKee; Eaton Leonard; Eagle; Hines; Horn; Pines; SOCO; Pedrazolli; 3RC; Smith; SOCO; Unison; Wallace; Miic).
Refurbish Or Upgrade
Tube Form Solutions will refurbish all makes and models of tube bending and end forming machinery. We offer either a control upgrade or a complete rebuild. We examine the current condition and quote a specific BOM and perform a complete runoff to demonstrate the machines capability.