Tube Bender Rebuilds & Upgrades
Rebuilds/Control Upgrades
We can extend the life of your current tube bender because we have the expertise to rebuild or upgrade your current machine. Over the last 20 years, Tube Form has serviced many models of Tube Benders (Adaptive Motion; Addison; Addison McKee; Eaton Leonard; Eagle; Hines; Horn; Pines; SOCO; Pedrazolli; 3RC; Smith; SOCO; Unison; Wallace; Miic).
Refurbish Or Upgrade
We refurbish all makes and models of tube bending and end forming machinery. We offer either a control upgrade or a complete rebuild. We examine the current condition and quote a specific BOM and perform a complete runoff to demonstrate the machines capability.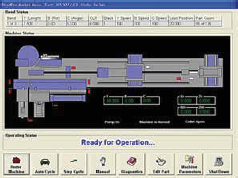 State of the art Bendpro or CAB controls are used.
Typical Control Upgrade:
Replace Control
Replace I/O
Replace servo motors and controllers
Completely strip down machine, wire brush
Repaint with one coat primer and one coat enamel
Replace chain-driven carriage with new servo-driven carriage assembly
Replace control console with new PC-based control system

includes high-resolution panel display and keyboard

Replace I/O with new Opto 22 I/O components and rewire machine
Hydraulic system upgrades
Replace all lines, hoses, meter units and fittings
Mechanical component replacement and upgrades
Complete machine tests and verification
Inquire About Rebuilds And Upgrades