An industrial pipe bender has the ability to hugely increase productivity. With bends performed faster and more accurately than manual methods, an industrial pipe bender can handle bends for everything from automotive to heavy industry.
With CNC, programmable axis, pipe feeding, and more there are options available to streamline and speed up even the most complicated of bends. Finding the right machine with the right options is essential to bending success, but there are two considerations that are often overlooked.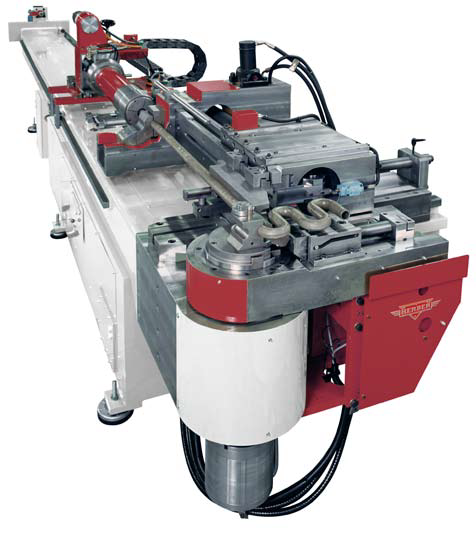 Looking for solutions to common tube bending problems? The Introduction to Tube Bending has detailed lists of tube bending issues and how to troubleshoot them!
Two Tips for Purchasing an Industrial Pipe Bender
One thing to consider when buying a pipe bender is how important it is to use complete sets of pipe bending tooling. Rather than purchasing tooling from multiple lines, use tooling that was purchased as a set. Mixed and matched tools may not match perfectly and that can cause inconsistencies and poor quality bends.
When purchasing a pipe bender, you have an excellent opportunity to ensure that the tooling works seamlessly with the machine.
Another, often overlooked, consideration when purchasing an industrial pipe bender is lubrication. Lubrication is a key factor in making good bends. Which type of lubricant is right for your application will greatly depend on the type of material to be bent. Regardless of the type of lubricant used, a generous amount should always be applied to the mandrel and interior of the tube.
When purchasing an industrial pipe bender, make sure that the lubrication you plan to use with it is compatible with the machine and materials you plan to bend.
Click here or follow the link below to download a free introduction to tube and pipe bending to learn more, or contact us at any time with any questions or comments you may have.
You might be interested in: