The question of why often comes up for shops thinking about acquiring a laser pipe cutter,. Why invest in a new machine? Why use a laser instead of other tools? After all, many of the processes a laser pipe cutter can perform can also be accomplished with other tools or by hand.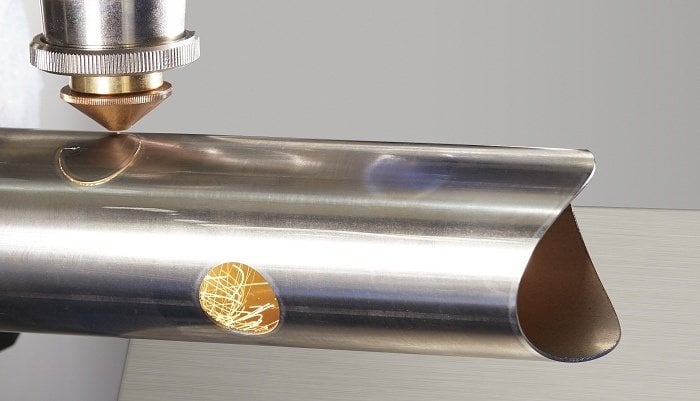 One of the advantages of a laser pipe cutter is its versatility. In fact, laser pipe-cutting machines can be used for more than simple vertical cuts. These machines offer users some processes like angle cutting, slotting, notching, beveling, and hole marking.
This diversity of cutting processes is one of the reasons for the popularity of laser tube cutting machines. With CNC software and a precision laser, large quantities of tubes and pipes can be quickly processed in many ways.
Many laser-cutting machines also offer automatic loading, alignment, and unloading. Meaning that the shops that need to perform multiple processes (like cutting and notching) save significant time on machine and tooling changeover by having a single machine that can accommodate all their needs.
Another advantage of laser tube cutting is the quality of the cut itself. When cutting with a laser, the finished cut is smooth and precise. This means that little to no additional time or labor is needed for grinding or deburring the cut end, greatly increasing efficiency and speed. The cutting, slotting, marking, notching, and other processes a laser pipe cutter can perform also benefit from the precision of a CNC laser.
By combining the jobs of many machines into one single machine with automation features and high precision control, manufacturers greatly speed up the time necessary to finish an exceptionally accurate part. That speed and accuracy translate into increased efficiency, greater ROI, and a solid product suitable for even demanding applications.
One other advantage of laser pipe cutters that is often overlooked is the ease of use. Many of the laser cutters on the market today offer enclosed workspaces and intuitive software. These features mean that operators are safer and require less training or expertise to perform many cutting processes.
Learn More
Contact us to learn more about our full line of tube-forming solutions, request more information about the Fiber Laser Tube Cutting Machine, or let us help you find the right automated solution for your application!