As more and more companies require complex tube and pipe bends in the course of their regular manufacturing left and right tube benders will continue to rise in popularity as the bending solution of choice.
Who is Choosing Left and Right Tube Benders and Why?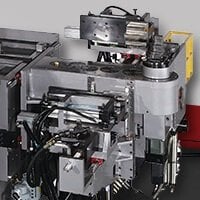 Like nearly every other industry, changing technology has impacted the way we bend tubing and piping. In years past, bending machines weren't expected to handle complex bends on a regular basis. Today, however, the demand for complex bends has steadily risen to the point where many shops find they need a solution capable of handling these types of bends.
One of the reasons for the rise in demand for complicated bends is advances in customer design software. As the software customers are using to design their products becomes more sophisticated and easy to use, they find creating products that require complex bends easier as well. Often, older machinery isn't capable of meeting their design specifications. You can see this happening across industries, but it is especially common in the automotive industry.
Head rests, fuel lines, heating systems, and cooling systems have all increased in complexity as technology has advanced, and this has led to the need for machines capable of creating complex bends.
Left and right tube benders give manufacturers the ability to execute multiple bending processes in different directions with multiple sets of tooling. This flexibility makes these benders ideal for handling the growing demand for complex bends.
Left and Right Tube Bender in Action
You can see our right and left hand CNC tube bending machine bend an OD32mm pipe in the video below!
Learn More
Contact us at any time with any questions or comments you may have or to learn more about our line of left and right tube benders. Click here or follow the link below to download a free introduction to tube bending.
You may be interested in these related posts: