Direct part marking tubes during or after the fabrication process is becoming more of an issue all the time due to increased requirements of the supply chain for part identification and traceability. Fabricators need to mark pipe and tube before, during and after processing to manage internal as well as external processes. There are many types of direct part marks that can be permanently applied to pipe and tube.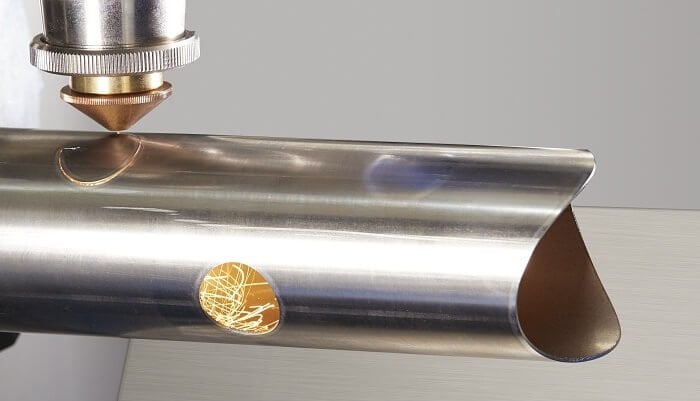 The first question is what data do you need to include?
Is the data unique for each part? Is the data changing from part to part like a serial number or time stamp?
Is the data batch data? Is it a lot number, date code, or production run designation?
Is the data static? Like a part number or fabrication line code.
Is the data alpha-numeric or graphic? Is the mark a graphic file?
Other things to consider are the material type, speed of the operation, and mark cycle time available.
The answers to these questions lead to the types of marking technology available to meet the application needs. 
Serialized Data
Laser
Tube Form Solutions newest product line addition from SOCO is the tube cutting fiber laser. This powerful new tool is also capable of low power direct part marking using the fiber laser and computer controls. The laser can mark serialized data like lot codes and serial numbers as well as logo and graphic files onto steel tubes.
Ink Jet Printer 
Industrial ink jet printers generally fall into one of two categories: inline and portable. Inline printers are integrated into a manufacturing line and are generally used to mark date coding, traceability information, and (in the case of hi resolution options) logos or other graphics.
Portable ink jet printers, by contrast, offer the same flexibility in marking capabilities but in a hand-held unit. These units can vary in their size, weight, and capabilities (not all units can mark graphics, for instance) but are typically easy to program, battery operated, and ruggedized.  
Dot Peen
Dot peen marking, also referred to as pin stamp marking, is a process that directly marks the content in precise, low stress dot patterns. This direct part marking method can be used for alpha-numeric characters, logos, and 2D data matrix bar codes. Used for marking small to medium sized parts, the capabilities range from simple nameplate requirements to completely integrated solutions for marking directly onto fabricated components in-line. 
Sticker
A sticker or a metal plate can be produced using an ink jet printer and include serialized data as well. Often these stickers are used for in process data and are not used for after installation since they are not as robust and apt to survive harsh environments as is direct part marking the metal.
Batch Data
Numbering Heads
Numbering heads are designed to mark serial numbers or other sequential data. Numbering heads are typically used for high volume production marking where versatility for automatic or manual advance numbering is required to stamp repetitive sequences such as product codes, part numbers, date codes, etc. There is virtually no limit to the range of products that can be marked with a numbering head.
Paint Markers
Industrial paint markers allow users to directly write on plastic, metal, glass, wood, and other materials that typically resist surface marking. Industrial paint markers can be either permanent or removable, depending on the type, and come in a wide range of colors. Most are designed to be completely opaque and fast drying.
Static Data
Dies, Roll Dies, and Stamps
Steel dies and stamps can be used with a wide variety of marking machines, punch presses, press brakes, and even hand-held devices. Typically stamps and dies are used to mark part numbers, patent numbers, trade names, trademarks, special lettering, or other static data.
Roll dies are used for marking parts being machined on an engine lathe, turret lathe, or screw machine. Rolls dies can be made from one or more lines of interchangeable type, or with combinations of solid logotypes and individual characters.
The benefit of steel stamps and dies is their long-lasting durability, wide range of machine options, and customization. Most stamps and dies can be customized to the users specifications, making them a versatile marking option for static data.
Tube fabricators have many options when choosing the best type of direct part marking application. 
Thanks to our friends at Durable Technologies for sharing their videos and expertise in part marking and identification.