Tube bending dies are essential to the tube bending process because they prevent the tube from flattening or buckling and ensure that the bend is performed correctly.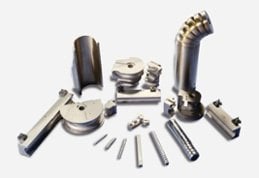 Bend dies, clamp dies, and pressure dies are the minimum essentials for bending tubes and tube forming. Each of these types of dies performs a function.
A clamp die will hold the tube in position while it is being bent. A bend die prevents the tube from flattening and forms the radius of the bend. Finally, the pressure die forces the tube into the bend die.
Types of Dies Available
There are many different types of tube bending dies available, and finding the right set of dies is necessary to ensure a proper bend without buckling or wrinkling. Unsurprisingly, the right set of tube bending dies is often determined by the given application.
This is why we offer a full complement of wrap-around tube bending tooling services.
Have questions about the basics of tube bending? Not sure which dies to use or why your bends are going wrong? Learn more in the Introduction to Tube Bending!
We offer a full line of tube bender tools as well as dies for any bending application. Our selection of tube bending dies includes:
Split die
Clamp dies
Pressure dies
Bend dies
Bend die base (Boss)
Click here to learn more about our tube bender tooling services or to request a quote.