While many tube bending processes can be performed manually, a CNC tube bending machine offers a number of advantages over manual bending.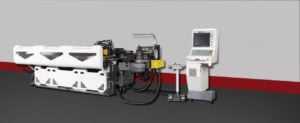 For most applications the quantity of bending alone makes manual bending unfeasible. A CNC tube bending machine also offers consistent bends and significantly increases efficiency. When choosing a machine, however, there are many options on the market with numerous features and specifications to choose from.
One option is a straight forward right and left hand CNC bender. Something like this bender is capable of left and right bending in the same cycle and is easily programmable. A bender like this is ideal for complex shapes like automotive head rests, fuel lines, and heating and cooling systems.
Other bending machines are more special purpose, like our SR series which is a complete line of booster benders for the automotive industry. Designed for the manufacturing of exhaust and tubular systems for cars, motorcycles, trucks, and buses this CNC tube bending machine offers a number of machine options to further meet application specifications.
A CNC tube bending machine from our A Series, on the other hand, is a versatile bending solution that is one of the highest performance solutions on the market. 3-4 electric CNC axes, multiple bending stacks, and DGT technology make this series ideal for a wide range of applications and industries.
Contact us at anytime to discuss your tube and pipe bending application and specifications.