Hydraulic mandrel tube benders combine hydraulics' bending power with mandrel bending's tube support.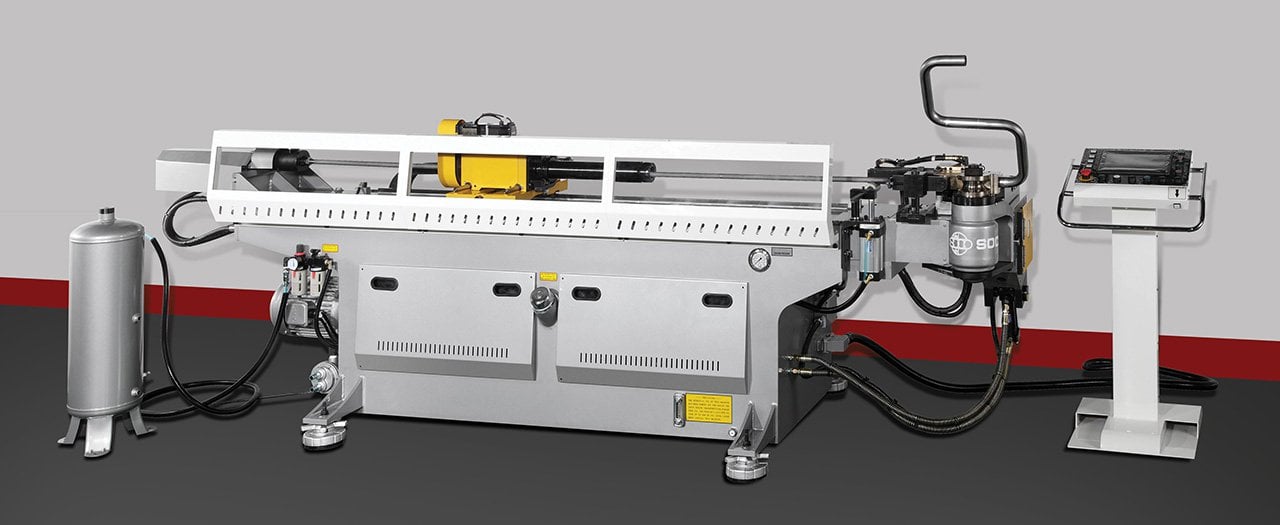 Mandrel pipe benders are often used to help prevent some of the most common bending problems. Things like wrinkles through the bend, buckling, and kinks can be avoided when properly using a mandrel during the bending process.
This is because the pipe is pulled over the mandrel before bending, and the mandrel is held in a fixed position as the pipe is bent. The mandrel provides support to the pipe and holds it firmly in the groove of the bend die.
Have questions about mandrel bending? Get your free Intro to Tube Bending and learn about the importance of a mandrel to avoiding common bending issues!
When combined with the bending power of a hydraulic bender, a hydraulic mandrel tube bender is an excellent solution for heavy-duty bending.
A hydraulic mandrel bender uses air or electric-activated pumps to perform the bend while the mandrel supports the pipe throughout the bend. With this type of bender, heavy-duty pipes can both be bent and supported so that the finished bend meets specifications without any of the common problems like wrinkles.
In action below, you can see our Auto Series CNC tube bender, a hydraulic mandrel bender.
Learn More
Click here or follow the link below to download a free introduction to tube bending to learn more, or contact us anytime with any questions or comments you may have.
You Might Also Be Interested In These Articles