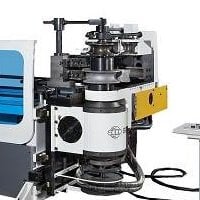 We offer 4 lines of SOCO all electric tubing benders. With a variety of specifications and options available, we can help you find an all electric bending solution for nearly any application.
All Electric Left and Right CNC Tube Benders
Utilizing left and right bending technology, the U Series SOCO CNC tube bender is an ideal solution for applications that require a large degree of flexibility. The combination of CNC and left and right bending makes complex bends attainable and repeatable.
This line of benders is ideal for automotive applications like headrests, fuel lines, and heating and cooling systems that demand precision from complex parts.
MRV Series CNC Tube Benders
The defining feature of the MRV Series of CNC electric tube benders is its capacity for multi-level tooling up to six levels. This series can handle both small and large bending radii and boosts the ability to bend parts with "0" straight lengths.
PT Series Wall Thinning Booster Bender
This series of all-electric tubing benders are specifically designed to be used in the production of the manifolds and converter inlet pipes used in exhaust systems. This type of production requires that the wall thinning ratio is controlled so that the finished tube can withstand the high-pressure system it will be used in.
The PT Series wall thinning booster bender is the ideal solution for this type of bending requirement.
A Series CNC Tube Benders
One of the highest performance solutions on the market, the A Series CNC tube benders utilize three-four electric CNC axes and multiple bend stacks to achieve outstanding performance.
Let Us Help You Find the Right Bender
We can help you navigate the many SOCO tube and pipe bending options available. Our engineers can match your application needs to the right bender for the job!
Contact us at any time with any questions or comments you may have or to learn more about the complete line of SOCO pipe and tube benders. Click here or follow the link below to download a free introduction to tube bending.